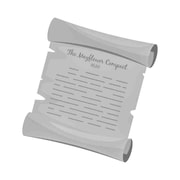 Mayflower Compact ...
The
Mayflower Compact
grew out of a need to work together. Most Americans probably aren't aware of the fact that not all of the "Pilgrims" were actually "Pilgrims." Among them was a group of people the Pilgrims referred to as "Strangers." Only 41 of the 102 passengers aboard the
Mayflower
were actually Pilgrims, or more correctly,
Protestant Separatists. They referred to
themselves as the "Saints," not Pilgrims.
Most endeavors require financial backing, the wish of the Pilgrims to establish a colony in what would later become America was no different. The
Company of Merchant Adventures of London
provided the funds for this settlement. One condition however was that the financial backers would be allowed to include some people of their choosing. The Pilgrims referred to them as Strangers.
A problem arose when the Mayflower was blown off course during the voyage. The intended destination was the Colony of Virginia, not Massachusetts. The Strangers staged a bit of a rebellion essentially stating that since they were not going to land in an area under the jurisdiction of the Colony of Virginia that the Pilgrims had no jurisdiction over them. It would soon become a situation of "every man for himself." Fearing total mutiny, it was decided to draw up a document that would bind them all, Saints and Strangers, under a common bond of cooperation. The document was titled, "Agreement Between the Settlers of New Plymouth." It later became know as the Mayflower Compact. On November 21, 1620, of the 50 men aboard the Mayflower, 41 signed the document.
The Mayflower Compact is often placed among documents such as the
Magna Carta
,
Declaration of Independence
, and the
Constitution
.