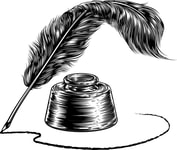 Research ...
The following resources will help you in your search to document your Mayflower line:
FamilySearch.org
is similar to Ancestry.com in that it contains "billions" of genealogy records.
Family Search offers much of what Ancestry.com offers, for free.
Ancestry.com
is easily the more recognizable and data rich genealogy website of the two.
It does however require a fee.
The
Mayflower Society Silver Books
document the first five generations of most Mayflower families.
These books are available for purchase. The Silver Books are also available for checkout through most libraries, for free.
AmericanAncestors.org
recently announced truly monumental news regarding Mayflower research. A searchable database now exists containing data from all successful
applications to the General Society of Mayflower Descendants (GSMD) from its founding in 1897 to 1920.
The database will always be 100 years behind in order to protect the privacy of any living descendants. This database is free to current members of AmericanAncestors.org and the GSMD. GSMD members must follow the registration instructions on the AmericanAncestors.org link at the beginning of this paragraph. All others must pay an annual fee.
The General Society of Mayflower Descendants also has a
resources
page that lists multiple websites that may aid you in your search for documentation.
The Church of Jesus Christ of Latter-Day Saints (Mormons) have Family History Centers in many of their Wards (Churches). You do not have to be a Mormon to use their facilities. The Mormon Church is responsible for perhaps the greatest collection of genealogical material in the world. Click
here
then enter your zip code to locate a Family History Center near you.
While it may seem a bit macabre,
Find A Grave
can be a great source of information. As stated before, headstones are an accepted form of genealogical documentation with the Mayflower Society.
Your local library is also a great resource.