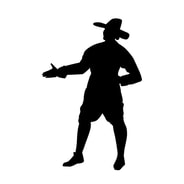 Meetings
Our meetings are held twice a year on the first Saturday of May and the first Saturday of November. Check back as the date approaches.
A "Meet & Greet" segment begins at 10:30 am. The actual meeting begins
at 11:00 a.m. and typically ends between 1:00 & 2:00 p.m. In addition to a presentation, we share a meal. The cost of the meal is currently $25.00. Lunch is served by the staff of the Sunnyside Country Club where our meetings are currently held.
Sunnyside Country Club
5704 E. Butler Ave
Fresno, CA 93727
Presentations
We have a presenter at every meeting who covers a topic of historical significance. These presentations are usually, but not always, related to all things Mayflower.
Our next presenter on Saturday, November 5th will be Miles Standish,
Captain
, of the
California Mayflower Society
. And yes, he is a direct descendant of
Myles Standish
. He will discuss the life and adventures of his famous ancestor.
Check the
Presentations
page for past topics. Upcoming presenters will be noted on this page as the date approaches.