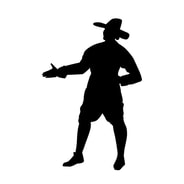 Meetings
Our meetings are held twice a year on the first Saturday of May and the first Saturday of November. We typically meet in Fresno at the ​
High Sierra Grill House​
located on the corner of Bullard & West, 2002 W Bullard Ave, Fresno, CA 93711. Our next meeting will take place on Saturday, May 1st, 2021.
Due to the ongoing Covid-19 pandemic this location may change.
Check back as the date approaches.
Meetings begin
at 11:00 a.m. and last about 2 hours. In addition to a presentation, we share a meal. The cost of the meal is usually $10.00 to $15.00.

Meeting Location Update
Our May meeting will take place at the home of our Governor.
Tables and chairs will be provided for our socially distanced outdoor meeting,
RSVP Susan
lilystarr@aol.com
if you plan to attend.
Saturday, May 1, 2021, 11:00 am
Home of Susan Rae Oldfield
35802 Road 180, Visalia, CA 93292
559-805-4446

Lunch Update
RSVP Susan
lilystarr@aol.com
if you wish to order a $12 catered lunch.
Menu: Chicken, beef, or ham croissant sandwiches, potato salad & dessert.
Drinks: Coffee, Iced Tea, & Lemonade
Zoom Meeting Update
If you plan to attend our meeting via Zoom you must let Susan know via email.
She will then send you an "invitation." RSVP
lilystarr@aol.com
Presentations
We have a presenter at every meeting who covers a topic of historical significance. These presentations are usually, but not always, related to all things Mayflower. Check the
Presentations
page for past topics. Upcoming presenters will be noted on this page as the date approaches.
At our next meeting on Saturday, May 1st, our speaker will be Alden Owen. He will discuss his trip to the John Alden House in Plymouth. He will also present his research following his ancestors from place to place, looking for documents to prove his multiple Mayflower lines.